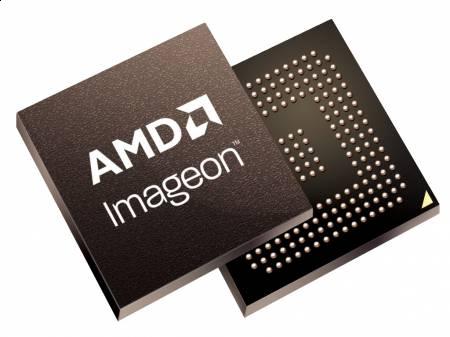 AMD has enhanced its established line of open-standard handheld device technologies with upcoming AMD Imageon processors, as well as next-generation 3D and vector graphics cores, available for licensing. These new offerings are designed to allow device manufacturers and network operators to support today's most popular applications, as well as cutting-edge applications that will thrill tomorrow's mobile consumer.
The latest technology offerings to broaden the popular family of AMD Imageon processors will include:
AMD Imageon D160 mobile TV solution, a complete hardware and software package that will enable OEMs to design cutting-edge mobile devices that receive over-the-air broadcast TV signals transmitted in the DVB-T and DVB-H standards. This turnkey, antenna-to-display solution also will enable mobile TV functionality to be designed in a USB-powered device for watching live television on notebook PCs, PDAs, portable media players and other USB-enabled handheld devices.
AMD Imageon M210 audio processor is designed to enable a high-definition, fully integrated audio subsystem capable of delivering more than 100 hours of music playback in airplane mode.
AMD Imageon A250 application processor for feature phones will combine the best of AMD's latest multimedia technology for video recording and playback, photo imaging, and high-res displays while maintaining long system battery life.
AMD Z180 OpenVG 1.x graphics core offers the only available hardware-accelerated native vector graphics solution, ideal for advanced user interfaces, navigational systems and portable devices optimized for animation and Flash-style content.
AMD Z460 OpenGL ES 2.0 graphics core will deliver fully programmable shader models for realistic 3D graphics, designed to revolutionize the mobile gaming experience for portable devices.
The new technology will be available for OEMs and silicon supplier licensees to sample beginning this month. Features enabled by these new products and technologies are expected to start appearing in mobile devices in late 2008 and 2009.
 source:tech2