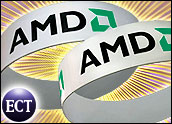 AMD, at CeBIT 2008, has announced its latest graphics driver release to advance the Ultimate Visual Experience for PC gaming enthusiasts and casual gamers alike.
Expected to be available for download starting, ATI Catalyst 8.3 is a software update in delivering both CrossFireX for Windows Vista – the world's first quad-GPU support, and scalable, cost-effective three GPU support – as well as ATI Hybrid Graphics Technology for casual gamers. These multi-GPU capabilities provide gamers a more realistic and immersive experience allowing them to play at high resolutions with demanding image quality settings.
ATI Catalyst 8.3 also introduces ATI Hybrid Graphics support for Windows Vista. The company maintains that up to 70 percent increases in performance are possible in some gaming scenarios based on PCs comprised of an AMD 780G motherboard and ATI Radeon HD 3400 Series graphics product in Windows Vista. ATI Hybrid Graphics also support up to four independent displays through the SurroudView feature.
ATI Catalyst 8.3 is available here. http://ati.amd.com/support/driver.html.
source:tech2