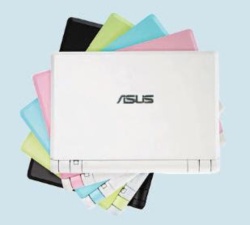 Wow after HCL's mini-notebooks, Business and education technology company Tangent has begun selling through computer manufacturer Asus a mini-notebook computer.It is called the Tangent ePC and pricing starts at around $300.
The Tangent ePC, which looks like it will sport the Asus logo on the cover, comes in a variety of colors and incorporates a seven-inch screen. Dimensions are on the small size, with the four models in this line up measuring 8.86- x 6.3 x 0.79-inches and weighing just over two pounds. These are not laptops designed for heavy business use but rather casual applications like Web browsing and word processing.
Other features set to be available on the Tangent ePC include up to 8GB of solid state disk flash storage, 1GB DDR2 memory, Linux, a Web cam, mouse and carrying case. These of course vary depending upon the model. Availability should be now.
source:reuters