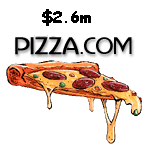 Chris Clark, 43, accepted the offer from an anonymous bidder after a week-long online auction.He sold the domain name pizza.com for $2.6m
The online auction was launched on 27 March. The first bid was $100, jumping to $2.6m a week later.
He sold his business in 2000, but kept paying the $20 annual fees for maintaining the domain pizza.com, which he also used to sell advertisements.
"It's crazy, it's just crazy," Mr Clark, who lives in North Potomac, Maryland, was quoted as saying by the Baltimore Sun newspaper.
"It will make a significant difference in my life, for sure," he added.
source:read