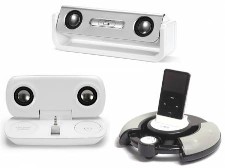 Dock Stations
Portability is in, especially in music. Almost anyone can afford an MP3 player of some sort today. But we're not here to talk about portable MP3 players… well, not quite. What we'd like to talk about are alternative solutions for music on the go. In your vehicle, that is.
Most people who have cars may not necessarily be able to afford expensive music players, so what we've outlined here are four items you can pick up from any car accessories store. These are cheaper alternatives to an expensive CD player. All you need are a decent set of speakers and perhaps a lighter for charging. You can invest in any cheap cassette player that has a radio.
MP3 players have become very affordable, but we are NOT suggesting that you use earphones while driving, under any circumstances. A good alternative would be to buy a dock station, which can also be used as a portable speaker that runs either on batteries or current supplied by your car's cigarette lighter socket. If you have an iPod, there are plenty of choices from big names like Creative, Logitech, and even Bose.
Most come equipped with 3.5 mm pins that fit into your MP3 player's earphone socket (you can get a converter if you player has a 2.5mm socket). Just make sure you choose one that isn't too big or you may have a problem with space in a small car. You could also connect your mobile phone to most of these docks, provided you have the required cable. You won't even need in-car speakers.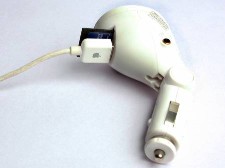 Intex EUP-802
Simply put, this is a modulator targeted at people who own an old cassette stereo system in their car, and don't have plans to upgrade in the near future. It's as simple as it can get: just plug it in and you are ready to go.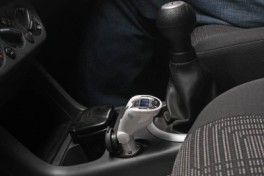 The device works using radio frequencies. You need to choose the frequency on the modulator and it will transmit the music on that particular frequency, which will be picked up by the FM radio on your car stereo system. The modulator comes with a USB slot, a 2.5mm jack, and an SD card slot. It works using the cigarette charging socket in your car, and costs only Rs 2,000.
source:tech2