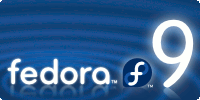 Fedora 9 Sulphur released and it's the most breathtaking version of the Fedora operating system. Not only does this release bring support for encrypted filesystems (implemented in the installer), but it's also one of the best Fedora releases yet!
It's powered by the latest and greatest Linux kernel, version 2.6.25, Fedora 9 Sulphur brings you ext4 support, a filesystem that's more scalable and performs much better than ext3. Although it is considered to work better than ext3, it is still under development and not enabled by default, with some features that are not fully completed. Moreover, Fedora 9 doesn't bring you a fully ext4-compatible version of e2fsprogs, although this utility can create filesystems mountable by ext4.
Download Fedora 9 and enjoy a very nice Linux distribution, right now from here.
I always recommend having an empty hard drive for a Linux installation  and you must have a minimum of 10 GB free space for the Fedora installation.
For this installation, use the Install DVD, because it contains all the software you'll ever need. However, the DVD edition has about 3 GB in size and, if you don't have the necessary bandwidth to download it, then we strongly recommend you get one of the KDE or the GNOME Live CD editions. Burn it on a blank disc with your favorite CD/DVD burning application, then insert the disc in the optical drive of the computer on which you want to install Fedora and boot from it. You'll be presented with a very nice Fedora GRUB splash and some options. At this stage, we simply suggest you press Enter, and wait for the system to load. And follow the screen messages.

And, before you reach the Fedora desktop, you must do a one-time general system configuration. That's it! Now log in to your new Linux operating system and enjoy the breathtaking Fedora 9 Linux distribution!