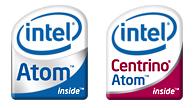 The first portable computer D4 ultramobile PC, based on Intel's Centrino Atom chip package is coming in June, although it will be bigger and more expensive than such devices were expected to be.
Sharp will manufacture the D4 ultramobile PC for Japanese mobile operator Willcom, which will sell it to new customers for ¥39,800 (US$395) with a two-year service plan costing ¥2,100 per month, taking the total cost to ¥90,200. The plan includes unlimited data. Willcom will not sell the D4 without the network service.
The D4 runs Windows Vista Home Premium, instead of a mobile version of Linux. It also comes with Microsoft Office Personal 2007 with PowerPoint 2007.

The D4 is reasonably large. At 84 millimeters by 192 millimeters by 26 millimeters and weighing in at 470 grams, the D4 is easily portable but not pocketable.
The Willcom D4 ultramobile PC is manufactured by Sharp and will be priced at ¥90,200 (US$910) with a two-year data contract.
source:read