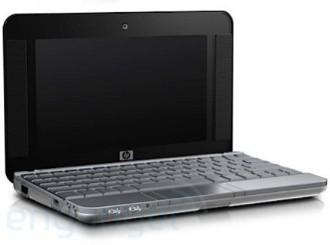 HP Mini-Note 2133 is fashionably late. Specs are exactly what we'd heard and what was up on Amazon earlier: 2.6 pounds,
The HP Mini is packed with a combination of features to boost productivity and improve the overall mobile experience, including:
* Simple, refined design and anodized aluminum shell that is sleek and sturdy yet lightweight;
* HP DuraKeys, featuring a clear coating applied over the notebook keyboard that protects the finish and printed letters and characters;
* An HP 3D DriveGuard, which sends a signal to shut down the hard drive upon sudden movement or shock by using a three-axis digital accelerometer chip
* Scratch-resistant display and magnesium hinge bracket
* A large 8.9-inch diagonal WXGA display, user-friendly full keyboard (QWERTY) and touchpad;
* Ability to view video, still-image capture, web conferencing or video-enhanced instant messaging(3) with no additional hardware to buy or carry. An optional(4) integrated VGA webcam enables video and still-image capture to allow the addition of photos and video clips to presentations, documents and email;

* Two battery solutions – three-cell for lightest-weight configurations or optional(4) six-cell for longer battery life;
* Wireless technologies such as integrated Wi-Fi Certified WLAN(3) and optional Bluetooth™, allowing students to access the Internet as well as communicate via email, IM, chat, VOIP and blogging. The wireless technologies also enable connections at hotspots as well as with Bluetooth devices such as printers, mice and headsets; and
* Optional(4) Absolute Software's Computrace(5) allows IT professionals to work with local law enforcement to track and help recover stolen or missing computers, inventory computers district wide and detect changes in hardware and software.
variety of configurations ranging from a $499 1.0GHz Linux-powered unit with 4GB of flash and 512MB of RAM to a maxed-out $749 config with a 1.6GHz processor, 120GB drive and Vista Business.
source:HP