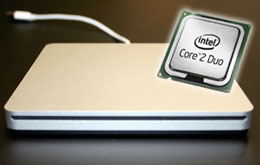 Seems Apple's recent launch of its ultra-thin "MacBook Air" has gotten other PC makers into a tizzy. They've obviously set themselves an agenda of coming up with a design as innovative if not more than the MacBook Air.
Especially so after Intel announced that its special Core 2 Duo chip — so far used only in the MacBook Air — will now be offered to the rest of the PC industry if interested. The company said that most of the technology used in this chip would become part of mainstream offerings after introduction of the Montevina platform later this year.
It's now learnt that PC makers the likes of Lenovo and Fujitsu are already in the process of developing systems based on Intel's special chip. While these laptops are expected to be available shortly, there's no word on the specifications yet.
Meanwhile, in case of Lenovo's existing ThinkPad notebooks and Fujitsu's LifeBook notebooks, these typically deploy ultra-low voltage versions of Intel Core 2 Duo chips so as to fit into the tight spaces afforded by their ultra-portable designs. Intel's special Core 2 Duo processor is expected to work around this problem and reduce the load on processing power.
Intel's chip — that was designed on request by Apple while they were putting together a blueprint for their MacBook Air — fits into a package considerably smaller than the packages typically used by Intel in its notebook chips.
The chip is meant especially for notebooks of the ultra-portable (weighing less than 3 Pounds) variety, and consumes less power than Intel's standard Core 2 Duo processor.
source:techtree