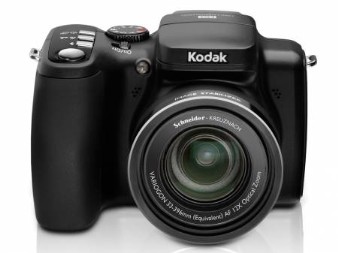 At the Photo Marketing Association Show (PMA), Eastman Kodak Company announced the latest addition to its line of Kodak Easyshare consumer digital cameras. The Kodak Easyshare Z1012 IS Zoom Digital Camera – with 10-megapixel resolution and 12x optical zoom with optical image stabilization – marries an advanced, high performance feature set to a compact size.
"With the newest addition to the EasyShare family, Kodak makes it even easier for consumers to capture life's high-performance memories," said Pierre Schaeffer, chief marketing officer, Kodak's Consumer Digital Imaging Group. "The smart technology found on the Kodak Easyshare Z1012 IS enables consumers to capture important moments and seamlessly bring pictures to life on vivid prints, HD displays, and wireless picture frames."
The Easyshare Z1012 IS boasts a suite of exclusive features that capture detailed pictures in the most challenging settings, yet its compact body can fit in the palm of your hand. Some of the smart features that make great picture-taking simple include:
* Click-to-capture speed (0.14 sec) and auto-focus accuracy.
* Kodak's smart capture technology automatically identifies the scene and adjusts the settings to deliver a great picture in almost any environment.
* Capture the details in low light conditions and fast action situations with high ISO (up to 3,200).
* Advanced settings including program, aperture and shutter priority, as well as full manual mode (PASM).
* Face Detection locates faces and automatically adjusts camera settings.
* Multimedia slideshow feature combines your pictures with music and transition effects right on camera.
The Easyshare Z1012 IS will retail for US $299.95 (MSRP) and will be available in the US in the first half of 2008. Pricing and availability in India have not been announced yet.
source:tech2