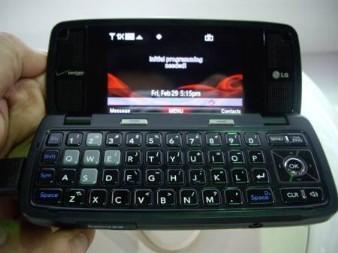 LG today showcased the VX 10000 Voyager and the VX8800 amongst others in a range of new phones yet to be launched at the Mobile Asia 2008, India. The phones are top of the line products to launched soon.
The Vx10000 looks like the Nokia communicator, and neat keypad hidden underneath the main screen. The phone also comes with a large external finger-touch display plus live broadcast TV. The external screen is touchscreen.Also cool look.
The VX 8800, also called the Venus is a CDMA slider quite similar to the 8550. Features include a music player, memory card slot, stereo Bluetooth, EVDO data, and a QVGA display.
Reade more in Tech2