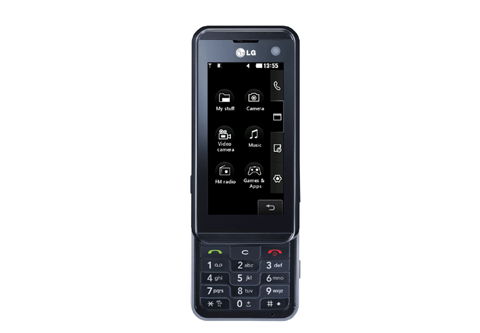 Korean mobile phone maker, LG Electronics, unveiled its latest mobile phone, KF-700 at the Mobile World Congress trade show lately. The latest slim, stylish design and slider type phone, LG-KF700 features multiple input methods. It has a large, high resolution, 3-inch-touch screen for immediate touch screen input. Users also can use keystroke saving shortcut dial and numeric keypad for input. The LG-KF700 also comes with powerful multimedia featured which includes a full web browser, digital audio and video players as well as handy widgets.
The world's first phone with three separate input methods, the LG-KF700 itegrates a 3-inch touchscreen, alpha-numeric keypad and Shortcut Dial. Each of these input methods is assigned to the tasks at which it is most efficient, making LG's highly intuitive interface possible. With its user-optimized navigation, all of the phone's functions and features are instantly accessable.
"Our consumers told us that they wanted a phone that had plenty of multimedia features, but doesn't take a long time fiddling with menus to figure out. We created the LG-KF700 based their insight," said Dr. Skott Ahn, CEO of LG Electronics Mobile Communications Company. "Internal research showed that a phone's multimedia features often lay dormant if they are hard to access. On many phones these features are hidden deep in menus, requiring too much time and effort to find them. The LG-KF700 eliminates these endless menus with its intuitive interface and multiple input methods."
Update 1:
LG has officially launched the LG-KF700 22 April 2008
A new multimedia phone, the KF700 combines three input methods to create what the company says is "an amazingly intuitive user interface" with instant access to features.
The first phone to integrate three separate input methods, there's a 3-inch touchscreen, alpha-numeric keypad and "Shortcut Dial".
The LG-KF700 is available in black and silver versions, as well as a black version with chrome accents. Pricing is yet to be announced.
source:LG