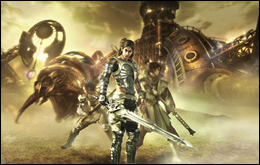 Microsoft in partnership with Hironobu Sakaguchi, the famed producer of Mistwalker game studio and feelplus, has brought to the Xbox 360 a new exclusive game called "Lost Odyssey".
Touted as a next generation role-playing game (RPG), "Lost Odyssey" blends massively multiplayer online role-playing game (MMORPG) elements with the game's traditional RPG system, enabling players to make strategic decisions for a more immersive game play experience.
"Lost Odyssey" is the story of 'Kaim', an immortal character, who has lived more than 1,000 years and doesn't remember his past and doesn't know where his future lies. Players will witness Kaim's life as he lives through many generations, becomes part of numerous families, falls in and out of love, and confronts all of the conflicts that arise.
The struggles are set in a world that is on the brink of a mystical industrial revolution, where mankind has attained dark powers.
Through Kaim's journey, a handful of characters join him on an odyssey to discover their intricate past and their destiny — all leading players in a drama of massive proportions.
According to Microsoft, the massively scoped worlds, the memorable characters, and the epic story line of the game — all play out like an intense and unsettling blockbuster action film.
The game is powered by Unreal Engine 3 technology that brings out the smallest details in the largest battles, including facial expressions of emotionally distressed characters in the world of the "Lost Odyssey".