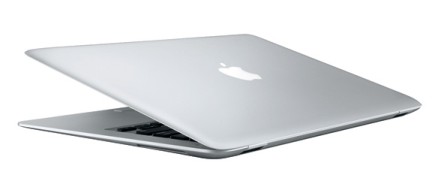 The PC World Test Center has seen some problems with respect to battery life. Unfortunately, you'll still be making major compromises with the Apple MacBook Air. In The PC World Tests, the Air produced respectable system performance, but mediocre battery life.
The Performance Numbers By PC-World
When the PC World Test Center ran its tests using Apple's Boot Camp utility–which enables a Mac system to run Windows, too–the Air's WorldBench 6 score was 57. That score is just below the average WorldBench score of 59 for the field of 17 ultraportable notebooks we've tested recently for our Top 10 Ultraportables chart.
The MacBook Air's performance is more impressive, however, when you consider it against the nine ultraportable models we've tested with a minimum weight of four pounds or less (I selected this subset of data for comparison as these are the most likely competitive choices of someone considering a MacBook Air against its PC competition): There, the average WorldBench score is just 50.
The Sony VAIO VGN-TZ510N/B, the slimline PC notebook Steve Jobs compared MacBook Air to in his keynote, scored just 38 on WorldBench 6 tests.
Only two models, the Asus W5Fe-2P025E and the Lenovo ThinkPad X61 bested the MacBook Air's final, post-Boot Camp WorldBench 6 score of 57. And, both the Asus and the Lenovo were running a faster processor than the MacBook Air: a 2-GHz Intel Core 2 Duo T7200. f
The MacBook Air runs a 1.6-GHz Intel Core 2 Duo processor (a 1.8-GHz processor is an option), and includes 2GB of memory, an 80GB 4200rpm hard drive, and a 13.3-inch display.
The only other model in tested with a 1.6-GHz Core 2 Duo processor and 2GB of memory is the 4.5-pound Lenovo ThinkPad X61t; this model received a 64 on our WorldBench 6 tests compared with the Air's 61.
The Lenovo X61t has other specs that may have helped its performance,  the MacBook Air: the X61t's 100GB hard drive spins at 5400rpm and its comparatively smaller display measures 12.1-inches on the diagonal.
Subpar Battery Life(Pc-World)
The Air's battery life averaged 2 hours, 31 minutes, which isn't even enough juice to cover the flight time from San Francisco to Dallas, let alone get a road warrior clear across the continent with a powered laptop.
The battery life performance of the Air also is quite dismal when we compared to the other nine laptops  in the four-pounds-and-under category. The MacBook Air's battery life was the third worst among those nine models. The average battery life score among these models was 4 hours, 37 minutes, and five models exceeded five hours in battery life.
source:pcworld