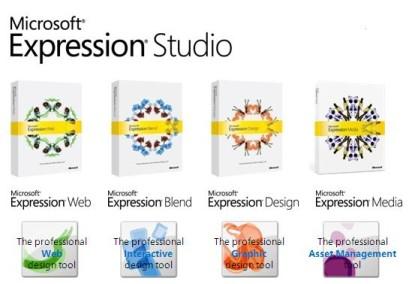 Microsoft unveiled new version of its Expression Studio 2 tool set for Web and multimedia designers that includes the first native support for its Silverlight technology across all of the products in the suite.
In a sense, this is the first full release of Expression, as Silverlight is a key component of Microsoft's design strategy and overall plan to compete with Adobe's Creative Suite and its Flash technology. Expression Studio has only been in the market about a year,
Expression Studio 2 includes five products
1) Expression Web for Web design
2) Expression Blend for multimedia and 3D design
3) Expression Design for graphic design
4) Expression Media for storing and sharing multimedia assets
5) Expression Encoder for video encoding.
The new release marks the first time Encoder is in the suite as a full-fledged product, said Wayne Smith, Microsoft group product manager for Expression Studio.
In the new release, all of the products now have support for Silverlight, Microsoft's multimedia runtime for running live and streaming video on the Web. Previously, only Expression Web had support for Silverlight, but it was very limited.

Other improvements to Expression Studio 2 include support for PHP development in Expression Web and improvements to video-file compression in Expression Encoder, Wayne said.
The traditional licensed version of Expression Studio 2 is available for purchase or upgrade from the first version of Expression on Microsoft's Web site now. It also should be available by mid-month in retailers such as Best Buy with an estimated retail price of $699. To encourage Adobe users to switch to Expression, Microsoft also is offering upgrade deals; information is available on the Web site.
Expression Blend 2 is available for $499
Expression Web 2 is available for $299
Expression Media 2 for $199
Expression Encoder 2 for $199.