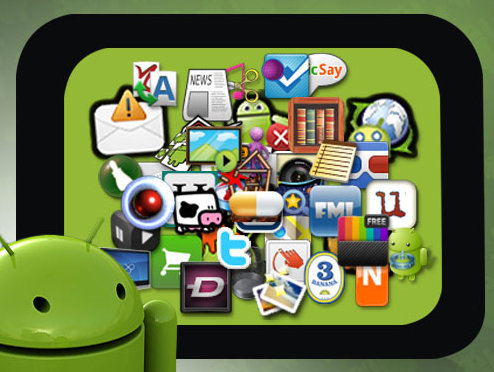 If you having an android phone it is sure that you will be searching for Must have and Useful Android Apps, good or best apps in android market and also best free android apps in market etc. I have spent two third of my time in searching, installing and testing android apps for my android phone for the past few months. So I have come to a conclusion on all the best apps and must have apps for android phones. I have listed all apps which you should have in your android phone. In this 16 out of 17 are Must have Useful free Android Apps.

By defaults all android phones having many Google applications like gtalk, gmail, etc.
1) Google Maps
Google Maps a Google Inc product, it really helps those who travel.
eBuddy Messenger helps, Stay always connected with all your friends and family on MSN Windows Live Messenger or WLM, Facebook, Yahoo, MySpace, Gtalk, Orkut, ICQ, AIM (AOL) and Hyves.
Barcode Scanner is must have application. This Scans barcodes on products then look up prices and reviews. You can also scan Data Matrix and QR Codes containing URLs, contact info, etc. Also share your contacts, apps, and bookmarks via QR Code.
You can also copy URL form you pc monitor if you have firefox with QR code add-on installed
Tiny Flashlight + LED is one of the very use full application. It supports the widest range of devices with camera led/flash torch.
Dolphin Browser HD is one of the best browser I found which support many add-on. Which is not that good in any other browsers, also nice design. Many customizations, themes etc.
6) Springpad
Springpad is a nice App which really helps to keep notes and also passwords protect etc
This is one of the very useful app which can be used to instant edit of images took in cam or stored in phone.
PicsIn Photo Studio is one of the amazing applications which are like image creator, wallpaper crater, paintbrush editor, image publisher to social network etc.
9) TubeMate: YouTube Downloader
TubeMate: YouTube Downloader is one of the nice application, this helps to search in youtube also helps to download videos we like in different resolution. Even this has supportive application to convert video to mp3 converter also.
10) GO Weather
GO Weather is nice weather application and it gives nice weather widgets also.
MixZing Media Player is nice Media player, compare to default media player this having many options and also nice 10 band equalizer too.
12) ES File Explorer
ES File Explorer is nice application. It is having multiple functionality like featured file manager with FTP and network and blue tooth, app manager with app backup and task killer etc, which explores PHONE and PC.
13) App 2 SD Free (move app to SD)
App 2 SD helps you to get more free internal phone storage space, also it notifies which are application you can move to SD card.
14) Android Assistant(14 features)
Android Assistant it having many features. It really helps to optimize your device by clearing cache monitoring CPU, memory, battery usage etc even it have an advance task killer.
AndroZip File Manager is an archive manager (ZIP, encrypted ZIP, RAR, TAR, GZIP, BZIP2, 7ZIP – BETA – under development), app backup, Task manager, search files, app installer, send files, app installer. Has multiple/batch move, copy, delete, create ZIP
Compare to all application I will strongly recommend JuiceDefender Plus to save battery usage. It really works grate but need to configure it nicely. You can customize many things in it. This app had a free copy earlier, but now it's removed. Now you need to pay for it.
17) GO Launcher EX
This is one useful application. It gives very good flexibility for your android phone appearance. Many customizations, themes etc. You can change each and every part of your android phone looks also it have some nice widgets also. It is really awesome tool.