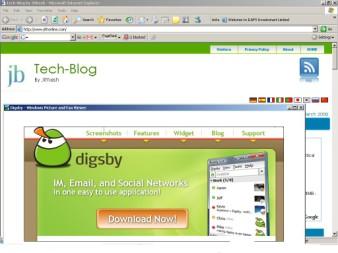 A centralized updating tool that aggregates instant messengers, feeds, emails and status reports across all the major networks and IM clients. Today marks the public beta launch of Digsby, so everyone can get a chance to check it out.
Considering the hype we saw for Ping.fm, a centralized updating tool, I'm guessing that a few Mashable readers out there will be equally as anxious to get their Digsby accounts (sans invite code) set up as well. For today's launch, Digsby is also releasing a handful of new features, one of which is a bulked out real-time newsfeed service for Facebook, MySpace and Twitter.
Other new features include a combined buddy list for AIM, MSN, ICQ, Yahoo, Google Talk and Jabber, with duplicate contact merging, tabbed windows and 2-way SMS from the IM window. E-mail alerts also have more interaction options, so you can mark items as "read" or report spam directly from Digsby.
source:reuters