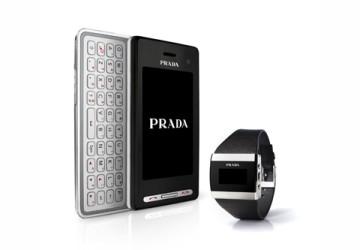 The latest edition of the PRADA Phone LG-KF900 offers a collection of technical upgrades catering to today's highest mobile needs. In the outer peripherals, new handset preserves the same original minimalist exterior that has now become a key design inspiration of touch screen handsets worldwide. A defining modification for the new handset involves a set of aesthetics keys that slide out to form a more professional look that not only grazes an elevated level of sophistication, but is also a highly efficient communication tool that complements the latest PRADA Phone by LG's technology.
The latest handset from LG and PRADA partnership is set to hit the stores in Europe by late November this year.

The handset's user interface also receives a powerful improvement with
LG's latest active flash UI technology haptic feedback on touch input enhancing the experience of the phone's exclusive contents offerings.
Dynamic upgrades to the software
Advanced 5 mega pixel camera
Slow motion video recording
This time around, LG and PRADA reinvents mobile trend with another stunning offering, the 'PRADA Link' LG-LBA-T950. Expected to release with the new handset, this sleek and elegantly packaged digital timepiece is a Bluetooth device that can remotely monitor phone calls as well as read full SMS text messages without having to extract the phone from a bag or pocket. Extending the handset's luxurious exterior beyond the device itself is a new wearable type accessory; the PRADA Link not only revolutionizes the conventional methods of mobile communication, but adds practicality and convenience to a fashionable statement.
The new PRADA Phone by LG and the PRADA Link will be available with a starting price of 600 Euros and 299 Euros, respectively. The products can be purchased through major mobile dealerships in the UK, France, Germany, Italy, Spain, Netherlands, and other countries in Europe.