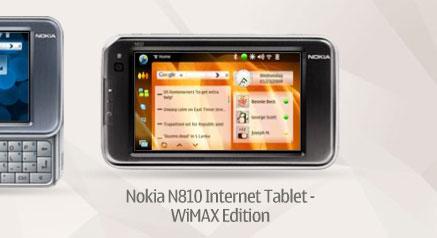 There's no official announcement yet but Nokia has again too early to be exact as we can probably guess that the new Nokia N810 Internet Tablet – WiMAX Edition will be announced at CTIA at Las Vegas on April 1st.
Eagle eyed itT member and owner of Internet Tablet School, Krisse found the new image and link (that is not yet active) over at the Nokia Tableteer site. Judging from the image, it looks like it's an N810 copy but in black brushed aluminum, rather than blue. The previously reported BestBuy Nokia ad perhaps shows how the N810 – WiMAX Edition will actually look. No wonder they made a mistake… they're both "N810's."
So be there in CTIA on April 1 (only) to cover what ever Internet Tablet news transpire. Stay tuned.