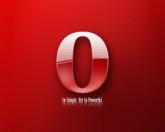 Opera Software today released the final public release of its flagship Web browser Opera 9.5. Making its desktop debut in Opera 9.5, Opera Link blurs the boundaries between computers and mobile phones by enabling a seamless Web experience from device to device. Opera 9.5 is available for Linux, Mac and PC computers and with more than 30 languages. Get Opera for free here.
Also Opera made Baidu as the default search engine in Opera's desktop browser in China. Now anyone accessing the Internet using Opera's Chinese language desktop browser can immediately enjoy Baidu's powerful search directly from the browser start page.

Since its arrival in Beijing, China,Opera. A leading handset manufacturer and popular consumer brand in China, has chosen to pre-install Opera Mini on three new handsets. Starting immediately, Haier's N81, N82 and N86 handsets will come loaded with Opera Mini via its partnership with KongZhong, allowing Haier customers to access all their favorite Web sites. Similarly, TCL, another well-known brand in China, has opted to pre-install Opera Mini, Opera's lightweight and fast mobile browser, on its upcoming A800 handset.
According to analytics firm Bango, China has fast risen up the mobile Web surfing charts, securing the position of one of the top six countries in the world to access the mobile Web. Such statistics clearly highlight the rising demand for full Web browsing. So Opera grows footprint in China in good way too.