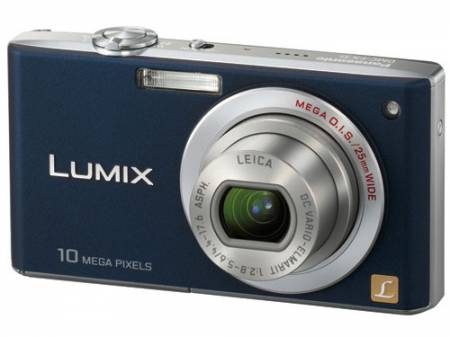 Panasonic recently launched seven new compact digital cameras targeted at various market segments. For details, read on…
The new line of super-slim Lumix FX-Series digicams is introduced with the DMC-FX35, complete with Panasonic's first-ever 25mm ultrawide lens. The FX35, with 10.1 megapixels, features 4x optical zoom, Advanced Intelligent Auto mode, a Leica DC Vario-Elmarit lens offering f2.8 brightness and the new fourth-generation Venus Engine image processor. It will be available in the US in March in silver, black, and blue, at an MSRP of $349.95.
Also announced were two point-and-shoot models: the DMC-LZ10 and DMC-LZ8. Featuring two key enhancements over last year's DMC-LZ7, the new models feature Leica DC VARIO-ELMAR lenses and wideangle shooting – 30mm on the LZ10 and 32mm on the LZ8. Further, both boast manual controls, convenient AA battery operation, 5x optical zoom, Intelligent Auto Mode, and Venus Engine IV. They will be available in February in black and silver, at an MSRP of $249.95 and $179.95 respectively.
The newly launched Lumix FS-Series of digital cameras debuted a pair of 10.1-megapixel models, the DMC-FS20 and DMC-FS5, both of which feature a 30mm wideangle Leica DC lens with 4x optical zoom. The FS models, a stylish sister-line of the highly-acclaimed LUMIX FX-Series, combines easy operation with a slim, compact look. Both models have Intelligent Auto Mode – an advanced intuitive system of technologies that help users take better photos more easily. The DMC-FS20 (MSRP $299.95) will be available in pink, black, and silver; while the DMC-FS5 (MSRP $249.95) will come in red, black, and silver. Both will be available in the US market sometime next month.
Finally, Panasonic introduced two new additions to its award-winning TZ family of LUMIX digicams, the DMC-TZ5 and DMC-TZ4. Both pack a 28mm wideangle, 10x optical zoom Leica DC lens in a compact design. Other features include Intelligent Exposure and Digital Red-eye Correction. The DMC-TZ5 is available in blue, black, and silver, at an MSRP of $349.95; while the DMC-TZ4 comes in black and silver, at an MSRP of $299.95. Both models will be available in late March 2008.
source:tech2