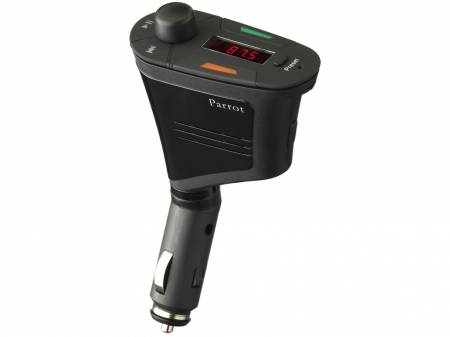 IDLDPL (India Digital Lifestyle Distributors Pvt. Ltd.) has released the Parrot PMK5800 Bluetooth car kit. The device requires no installation for both handsfree calling and music playback, and simply plugs into your car's 12v cigarette socket plug and pairs with your Bluetooth-enabled mobile phone.
The built-in FM transmitter enables it to stream tunes via A2DP from your phone and voice calls can also be transmitted to your car's stereo deck. To receive an incoming call, all you need to do is hit on the preset FM station you've chosen. Other features include echo and noise cancellation, full duplex sound, and voice recognition.
The PMK5800 comes with a high-quality FM stereo transmitter that transmits calls and music effectively to the car stereo. The built-in microphone, combined with special software, captures voice and filters out ambient noise. Proprietary voice recognition software allows handsfree calling. You can quickly access your main contacts by simply saying their names (up to 150 contacts per phone).
The PMK5800 costs Rs 5990 and is available exclusively at IDLDPL.
source:tech2