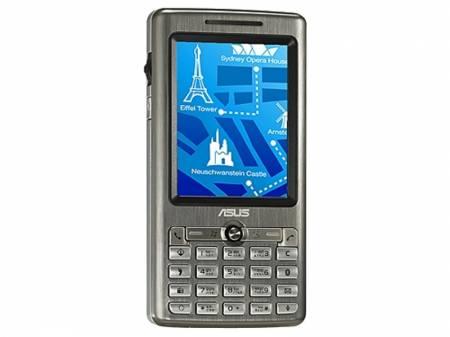 Asus India along with IDLDPL, (India Digital Life Style Distributors Pvt. Ltd.) has launched their latest PDA phone, the P527 in the Indian market. Among the host of functions, Travelog and Location Courier have been crowned as the most unique features on the P527. While Travelog enables users to record travel routes and export data to Google Earth, Location Courier serves as an S.O.S. device to send a user's GPS position to five preset phone numbers. In such cases of emergency, SMS messages will be delivered to the preset receivers with a touch of a button.
The P527 can record and share users' traveling pictures, routes, Points of Interests (POIs) and memos with the built-in Travelog feature. This xfunction supports the Google Earth satellite maps format – allowing users to create a diary of events during their travels. The timely GPS navigation with GPS Catcher allows users to find their location xwherever they are in the world – allowing them to navigate to their next destination with ease. The Location Courier feature of the P527 will also help prevent users from getting lost by accurately and periodically reporting their position to their pre-defined friends' contacts. Even in locations with vast, open country, the global GPS network will be able to locate the user.
Additionally, the new station feature allows users to receive the latest news reports and website information through RSS related settings. The Business Card Recognition feature also makes it easy to capture the details of a business card without tediously keying in the data. With the built-in FM Radio Receiver, a 2 Mega-Pixel Camera (Auto-Focus) and Windows Media Player, users will be able to enjoy more multimedia enjoyment; while the built-in Windows Live function allow access to Hotmail, MSN, Spaces and. The P527 is a slim 15.4mm handset with a silver-gray aluminum cover. It's equipped with 8 dedicated hotkeys and 5 directional front jog dial with a 3 directional side jog wheel. It's 2.6 inch TFT, touchscreen display has a 240 x 320 pixel resolution. It supports microSD cards for external memory. The con about this phone is it only supports EDGE connection.
Utilizing the Windows Mobile 6 Professional Operating System, the P527 provides Office functions and synchronizes Outlook emails, edits Word and Excel documents and views PowerPoint slides.
The new ASUS P527 PDA phone is priced at Rs. 17,900 and is now available in India through IDLDPL.
source:tech2