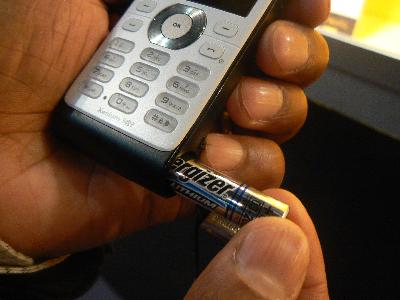 Yes, 9@9j really is the name of Philips' upcoming mobile phone. It'll be fun going into Carphone Warehouse asking for that… But the candybar handset does have one innovation – there's a slot for a AAA battery in the bottom.
"It has a standard lithium ion rechargeable battery, but it has the option to put a AAA battery in, and it'll give you three hours extra talktime. If your lithium ion battery goes dead, the backup battery kicks in, and starts to charge the lithium ion battery, so you can start using the phone straight away."
The technology comes from Israeli firm Techtium, and it's called Backupower. The 9@9j is the first phone to have it inside. Battery firm Energizer is involved too.
source:ohgizmo