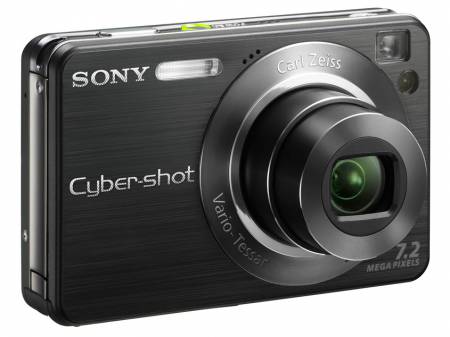 Sony's Cyber-shot W-Series has gained a new look for 2008, with five new cameras that team HD image quality with easy-to-use features. Available in a choice of colors, the new W-Series boasts clean lines and contemporary looks. Inside the all-aluminum case, all five models come with the latest Sony technology.
The range is topped by the 10.1 megapixel Cyber-shot W170 that sports an extra-large, bright 2.7-inch Clear Photo LCD. There's also a Carl Zeiss wide angle lens with 5x optical zoom. Thanks to its minimum focal length of 28mm (35mm equivalent), zooming out to wide angle lets you squeeze in more of landscapes and group photos without cropping the subject.
The W170 now features Intelligent Scene Recognition that takes the guesswork out of selecting the right camera settings in a range of common shooting situations. In Advanced mode, the camera takes two shots – one with standard automatic settings and the other with optimized settings – allowing you to pick your favorite. Other key features include Smile Shutter, Face Detection and Super Steady Shot optical image stabilization for clearer low-light shooting.
With a resolution of 8.1 effective megapixels, the W150 has the same 2.7-inch Clear Photo LCD as the flagship W170. It also features a 5x zoom Carl Zeiss wide-angle lens, plus Smile Shutter, Face Detection, Super Steady Shot, and Intelligent Scene Recognition.
The W130 also boasts 8.1 effective megapixel resolution, along with Smile Shutter, Face Detection, Super SteadyShot and a 4x Carl Zeiss optical zoom lens. The W120 shares similar specifications but with a resolution of 7.2 effective megapixels.
The entry-level W110 offers 7.2 effective megapixel resolution plus 4x optical zoom, Smile Shutter and Face Detection.
The W120 will be available for about $200 in pink, blue, black and silver in March 2008. The W130 will be offered in pink, black and silver for about $230 the same month. The W150 model will hit retail in sophisticated champagne, red, black and silver for about $250 in April. The DSC-W170 model will also be available around the same time in the same colors for about $300.
source:tech2