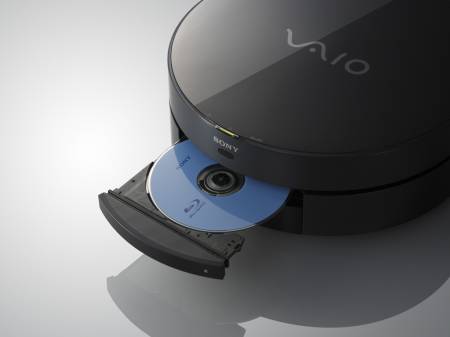 Sony has finally updated its sexy Vaio series with the latest Intel Penryn processors. Apart from this upgrade, a few models have been equipped with Blu-ray drives as well.
Among the new upgrades, the first series to get a spruce-up is the Vaio AR60. This new series comes with an Intel Core 2 Duo T8300 processor, Nvidia GeForce 8600M GT graphics (512MB VRAM) and a Blu-ray drive. The 17-inch WUXGA widescreen display gives you 1080p Full HD in brilliant color, with X-black LCD screen enhancement and super-bright double lamp illumination. The AR60 also provides 4GB RAM, hybrid DVB-T digital/analog tuner, remote control, and HDMI.
Next to be upgraded is the VAIO SZ70 Series. The highlight of this series is the fact that these are  lightweight (1.79kg) ultraportable machines that boast a carbon fiber chassis and power-saving LED screens. The notebook also incorporates an Intel Core 2 Duo T9300 processor and a unique Stamina Mode switch that allows users to select between settings i.e. they can choose extended battery life of over 5 hours or exceptional graphics power, depending on what they need. It has 4GB of memory and a 250GB hard drive.
Next up is the VAIO CR30 Series, which can be customized with either C2D T8100 or T8300 processor. It offers a 1.3 megapixel Motion Eye webcam, and a unique AV Mode feature that lets you watch films on DVD or play audio CDs without needing to start Windows.
The final product in our list is the Sony Vaio TP2 Home Entertainment Center. This is the famous circular HTPC that now packs in an Intel Core 2 Duo T8100 processor, Blu-ray Disc Combo Drive, HDMI, hybrid DVB-T digital/analog tuner, and a 500GB hard disk.
source:tech2