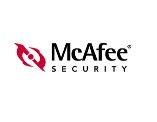 McAfee SiteAdvisor, a plug-in for Internet Explorer and Firefox browsers, tests, analyzes and rates websites in detail for unsafe or annoying practices such as dangerous downloads, spamming, misuse of personal information and browser hijacking. This helps you sidestep possible identity theft or fraud traps. When searching with Google, Yahoo! or MSN, SiteAdvisor's easy-to-understand safety ratings too


1) Browser tool bar
As you browse Site, a small button on your browser toolbar changes color based on SiteAdvisor's safety results.
Red (Danger)
McAfee tests revealed some serious issues that you'll want to carefully consider before using this site at all. (Example: The site sent lots of spam e-mail or bundled adware with a download).
Yellow (Caution)

McAfee tests revealed some issues you should know about. (Example: a site tried to change browser defaults, or sent a lot of non-spam e-mail)
Green (Safe)

McAfee Tested the site and didn't find any significant problems. (Secure sites.)
Gray (Not submitted site)

The site has not been tested, or is in the process of being tested also you have option to submit the site to test also.
You have a menu options on SiteAdvisor's toolbar which let you customize SiteAdvisor or see a site's detailed test results too.
2) Search Page
When you search with Google, Yahoo! or MSN, SiteAdvisor's safety ratings appear next to search results. Ratings—Red indicates dagger that means this site reported virus downloads and also linked to malicious sites which already rated Red in Macfee database.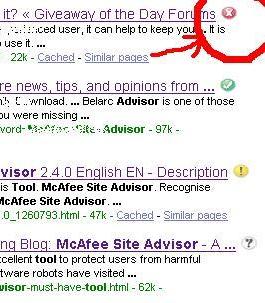 You can also get more information about the site by keeping the mouse pointer on the alert symbol; it will show a popup in search window it self, which gives summary of the sites status.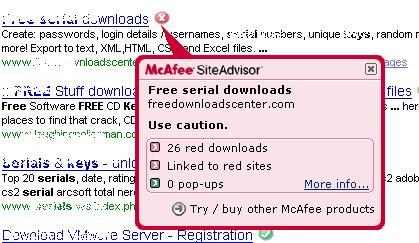 3) Detailed Test Results
Also a detailed test results for every site are available by clicking on the more info link; in that you can see the external sites which are linked to this site as shown bellow.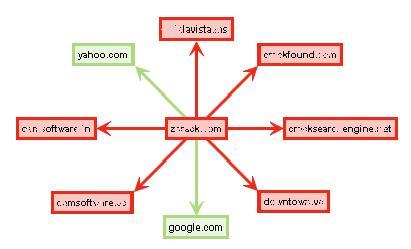 So it will be very hand if you installed McAfee SiteAdviso in your PC while surfing the giant www network.