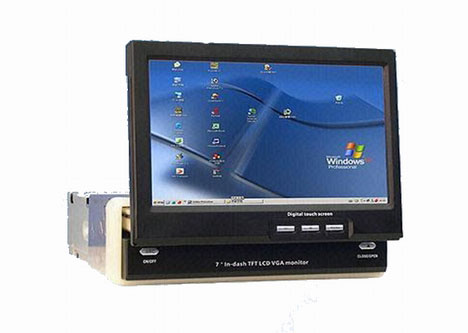 NAVISURFER II is the first indash 1-DIN computer with a combination of 7″ touch screen monitor. Monitor able to move as vertically as well horizontally. NAVISURFER II allows to run any normal Windows or Linux compatible applications also serves as Audio / Video Player, Vehicle GPS Navigator & Tracker, Rear View Camera, In-Car wireless Internet, In-Car TV, In-Car Game Console and In-Car Mobile Office and real-time OBD-II vehicle diagnostics.
The PC is powered by 1GHz processor and backed up by 512MB RAM, which makes it more than sufficient for processing simple tasks with media playback capability. Additional 80GB storage is spacious enough to store applications and multimedia files. Just imagine you can store few copies of HD DVD movies to be played back without the need to have another DVD optical drive connected to the car PC. Besides, it is equipped with 7-inch touch panel that is able to display 800 X 480 resolutions with scaling capability up to 1024 X 768 pixies. Some of the functions included multimedia playback, rear view camera, gaming, office applications and more importantly the GPS navigator function.
Models
NavisurferII 40GB
Processor: 1.3 Mhz
Hard drive: 40GB
RAM: 256MB
NavisurferII 80GB
Processor: 1.3 Mhz
Hard drive: 80GB
RAM: 256MB
NavisurferII 120GB
Processor: 1,0 Mhz
Hard drive: 120 GB
RAM: 512MB
Priced at around $600, it is a good deal to get one in case you are looking to replace old DIN cassette player in the car.
 Source:VIC