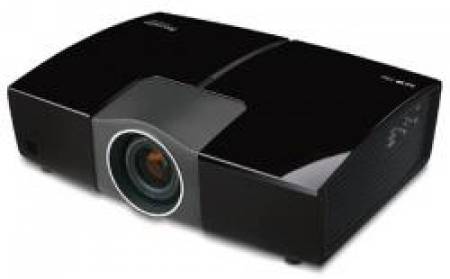 ViewSonic has announced that it's launching a full HD LCD projector designed from the ground up expressly for home cinema use.
The Pro8100 is the first offering from the brand's new Precision Series of uncompromising products developed exclusively for the custom installation and specialty retail channels.
At its heart lies a C2Fine 3-LCD panel powered by a powerful Silicon Optix Reon video scaler with HQV (Hollywood Quality Video). There's also 10-bit colour processing helping the Pro8100 claim over 1 billion colours for super-fine colour graduation; processing which evaluates images on a pixel basis to clear any blurred areas while adding contrast to make details stand out more clearly; and processing which identifies complete frames as they come in and optimises film to broadcast cadence.
In keeping with most LCD projectors, meanwhile, the Pro8100 also boasts integrated auto-iris technology, enabling contrast levels of up to a claimed 13000:1.
In keeping with its custom install ambitions, the projector additionally boasts ViewSonic's Precision Color SystemTM (PCS), which the brand claims 'acts as a final "colour check gatekeeper" and ensures accurate colour reproduction by fine-tuning and correcting colour reproduction errors in the front-end scalar chip'. Apparently the system allows up to 33 individual levels of gamma correction for studio grade colour calibration – a level of flexibility typically only achieved with expensive external video optimizers.
Other key facts about the projector include HDMI 1.3a inputs; powered zoom and focus tools plus horizontal and vertical lens shifting; a noise output of just 18dB when running in Eco mode; and its availability in no less than four different colours: Piano Black, White, Grey or Burgundy.
source:homecenema