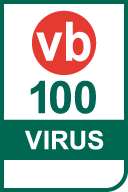 A new test of anti-malware products running on the Visat has found that many don't work as well as they should.
The latest independent Virus Bulletin tests looked at 37 different Vista-based security programs to see which could manage to reach the level of threat detection required for 'VB100' Certification. Out of 37 tested, 17 failed the tests, including big name products from McAfee, Sophos, and Trend Micro.
Before users rush to de-install Vista products from those companies, the VB100 sets an incredibly high detection bar of 100 percent of a subset of malware defined by a malware collection known as the 'WildList.' Programs must also, using default settings, avoid false positives – false flagging files as malware infected when they are in fact innocent.
While McAfee, Sophos and Trend detected 99.99 percent of the WildList, other programs fell some way short of this 'almost' status. Doctor Web reached only 95.21 percent, and Security Coverage PC Live managed a hopeless 84.35 percent. Microsoft's own oft-criticized Windows Live OneCare and Forefront Client Security both hit the VB100 100 percent mark.
Thus far, Vista's defense has been the relative trickiness of programming malware for it and the fact of its slow uptake. Neither factor will protect it indefinitely.
source:read