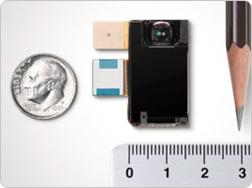 Samsung says, one of the world's smallest high-resolution cameras yet. Although capable of 8-megapixel shots, the this camera is roughly as wide as a coin and a third of an inch thick, allowing it to fit into far thinner and more compact phones than even many 5-megapixel cameras. The sensor is also more powerful than most at its size with up to ISO 1600 light sensitivity, anti-blur and noise correction, and both face and smile detection for portraits.
Samsung says the camera will be used both in Korea and abroad, in mobile phones as well as digital cameras and other portable media devices.
Production samples arrived in market with products containing the tiny camera in consumer's hands in the second half of the year like innov8.