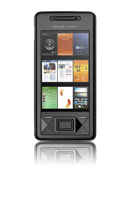 One commentator hailed Xperia X1 as the new reference in terms of productivity and entertainment, and "the most exciting Windows Mobile phone since the Blackjack 2."
Sony Ericsson execs call it a "premium" convergence device and forewarn that it won't be cheap.
But they promise the Xperia X1 mobile phone will be worth every cent you spend on it.
That, of course, is an assertion that is yet to be verified as the device will only be available in North America in the second half of 2008.
However, the information and preview provided during the product's launch at the Mobile World Congress in Barcelona on Sunday created a buzz that resonated across the Web.
Another observed that X1's "luscious aluminum shell" and "amazingly sharp display" would "put Apple's [iPhone] to shame."
source:pcworld