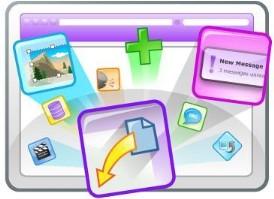 Yahoo announced software called BrowserPlus that has a similar philosophy. Expand what's possible to make Web applications a better alternative to programs running natively on a personal computer. Right now, it's available only in a "sneak peek" on some Yahoo-operated Web sites.
But a year after the Google launched its Gears project, Google appears to be trying to make it easier for competitors to embrace Gears. At its Google I/O conference here Wednesday, Google de-branded Gears today, taking its name off the project and announcing some new Web browser support in the works.
"BrowserPlus is a technology designed to extend the Web, so that developers can build more exciting Web applications and so end users can get more done inside their Web browsers," Yahoo said on a BrowserPlus frequently-asked-questions page.
Different Web sites can use BrowserPlus to support things like drag and drop from the desktop, easier file uploads, more efficient and secure acquisition of feeds and information, and native desktop notifications.
BrowserPlus works on Mac OS X 10.4 and 10.5 machines and on Windows XP and Vista machines. Supported browsers are Internet Explorer 7 or later, Apple Safari 3 or later, and Firefox 2 or later.