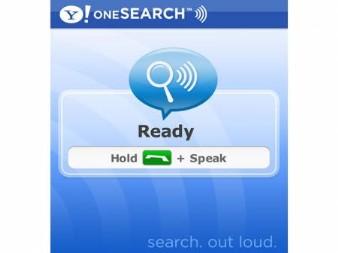 Yahoo's new version of its mobile search service has unveiled oneSearch 2.0, that includes features like voice-enabled search, search assist, idle screen access and open search results.
To make voice-enabled search possible Yahoo! is partnering with vlingo, a leading speech-recognition company. With the voice-enabled version of Yahoo! oneSearch, consumers can search for anything, including flight numbers, locations, Web site names, local restaurants, and more, by simply speaking. For example, a search query like "N-C-Double-A" will returns a set of results highlighting the latest tournament scores, upcoming game times, and breaking news. Yahoo! oneSearch with Voice lets user perform "wide open" searches – returning relevant results for practically every kind of query.
Available for select Blackberry devices including the 8800 series, Curve, and Pearl in the United States, the new voice-enabled Yahoo! oneSearch can be downloaded from HERE. Over the coming months, the product is expected to support additional devices and become available internationally.
Yahoo! also plans to make it easier to access the search box. The company today also previewed an innovative idle screen search service that makes it easier to search on the phone by integrating the search box right into the main screen. The idle screen will give users one-click access to Yahoo! oneSearch and the Internet. Searching will be easier and faster, as users will not be required to open their browser.
This idle screen solution is expected to roll out in Q2 2008.